Black resin cowl of the scooter because of the unpainted, will deteriorate in white in the sun.
If regularly carried out maintenance before aging in a protective resin chemical, It can prevent some degree of white deterioration.
But I think there are a lot of people who would like to improve that after white degradation occurs.
In addition, since a high assessment want to, such as when to sell, let's black the white deterioration.
It may be with a coating agent …but
I went a lot of white burnt degradation measures.
Most with a coating agent to protect paint to deteriorated part burnt white, Such a product has been sold many kinds.
I also have bought a lot…
But although none certain effect is,White burnt deterioration is noticeable as soon as the neglect of the periodic maintenance.
Frankly, Or coating agent to completely prevent the white burnt deterioration will not does not exist…? I think so.
Therefore, maintenance of resin exterior give up, It has changed the resurrection and the idea by painting.
Let's compare the painted resin cowl and white burnt part.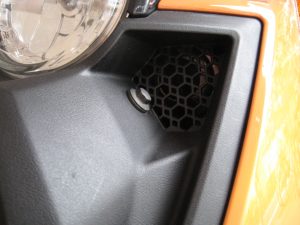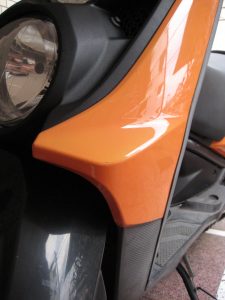 I compared the extended image and whole image.
Can you understand the difference?
If the painting three years maintenance free
Resin parts of the image, Well, after painting, it has passed for three years.
That three years is a no maintenance,Only painted.
Comparing with other image …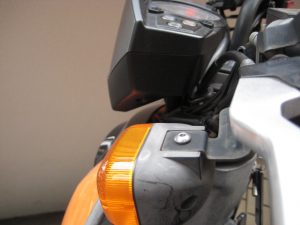 Direction indicator of non-painted, white burnt degradation has reached a peak.
Speedometer is a beautiful state because it is painted.
Compare in a more easy-to-understand the entire image.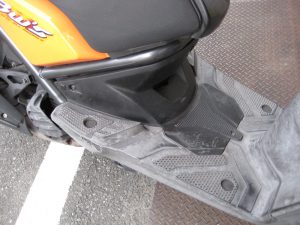 You can see well the difference of the paint section and the deteriorated part.
There is also a part where I come off a little at the painting part, Given the location to put the foot in addition to the three years no maintenance, This endurance is I think that may be given a great evaluation.
It was painted with an aqueous paint spray can without luster
Paint spray can which I used is this, I bought in the building materials of the DIY shop.
When you buy, you do not ask questions such as "Can I use on a motorcycle?" to clerk.
… In fact, I also tried a number in to arrive in this Paint spray can.
Since the best was good to try about 10 Type is this, I think that would be helpful.
In more than five years of weather-beaten, this state is good
Since the masking and removal is troublesome not painted feet part.
Remove the Remove easy to place one by one, was Paint spray can paint in a cardboard box.
By the way, I do not hardly wash the scooter…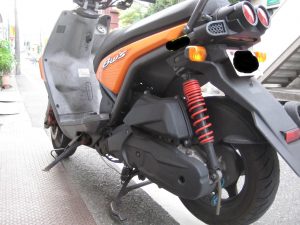 If there is a large cardboard box, it can be cleanly paint even for beginners.
When it comes to paint, People tend to shy away even without a beginner from it, such as may be difficult or failure, In the case of plastic parts can also be easily painted with beginner (but black only)
I do not use the surfacer making adhering to of the paint better.
Put parts in a cardboard box,Spray paint the parts in a cardboard box.
Problem solving by paint spray is most effective for the person who worries about white baked degradation of a resin cowl.