When you add custom of long pulley boss and boss washer, The spline range of the crankshaft That will drastically decrease, More attachment of a spline nut becomes difficult.
So because some splines appear, it is all right …thread galling the spline equips forcibly,Pulley face attachment sometimes becomes difficult.
Such a situation is the worst, become a replacement of the crank shaft.
You can not respond if a beginner.
Let's easy to deal with before it becomes so, It metal cutting the pulley face with an electric drill.
long pulley boss is here
https://cvtmotorcycle.com/en/long-pulley-boss/
metal cutting about 1mm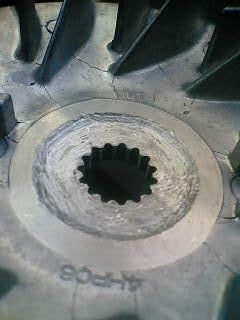 A spline nut can cut into a spline when I metal cutting it like the image mentioned above.
Is, for example, if additional boss washer is 1.5mm,
I think so feeling such as metal cutting 1.5 mm.
Pulley face the best processing of normal type
I recommend the processing of normal pulley, Because normal is high durability.
The kind of the pulley a high speed pulley and a finless pulley…There are many kinds and product makers.
And, there is each different material and V-belt ground plane and angle
Therefore there is also a pulley with the weak material.